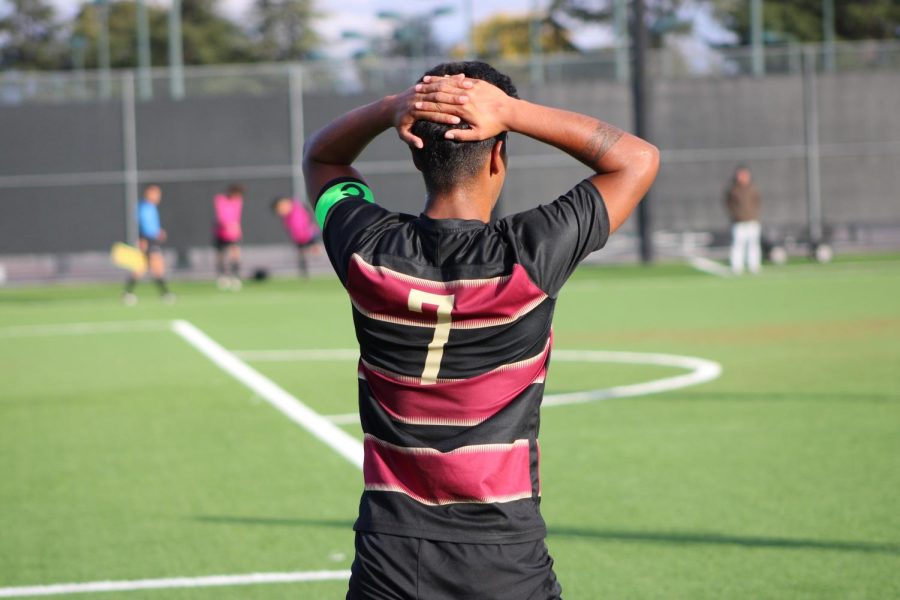 20-year-old kinesiology student Cesar Cornejo is one of the captains of De Anza College's men's soccer team.
Cornejo demonstrates his leadership skills on and off the field, constantly pushing his team to be better. This season is Cornejo's first collegiate football team captain, but he's showing his confidence in the games to come.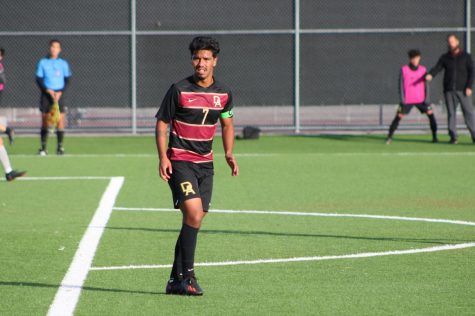 On November 8, the De Anza men's soccer team lost 2-1 in a game to Foothill College. Cornejo was frustrated by the loss and said it wasn't the result his team wanted, but he admired his team's fighting effort.
"I think I did great, but since we lost and I'm the captain, I think I should do a lot more," said Cornejo. "I should do something that helps the team a lot more, like up the intensity or something."
Cornejo said he won't let this loss affect him or the team knowing the playoff games are upon us, meaning the team must focus on training for now.
"We will still practice and prepare for our game," said Cornejo. "It's going to be a tough game so we have to move on to the next one."
Cornejo has been playing soccer since he was four years old, this is his sixteenth year with the sport. He credits his parents for his continued passion for the game.
"My father played football when he was young," Cornejo said. "He's put a ball on my feet since I was four and I just enjoyed it all, to be honest."
His determination to continue pursuing football came from his longstanding involvement and love of the sport.
"My passion for pushing myself harder every day is for my parents," said Cornejo. "I do everything to get a scholarship to help my parents pay as little money as possible. I've had the same goal since I was in high school and to see me getting closer and closer to my goals makes me proud, but most importantly my parents are proud of me."
Cornejo is working towards a degree in Kinesiology. He would like to be able to work in sports science so that he can stay connected to the sport and use his experiences to help others, even if he doesn't play himself.
Mark "Rusty" Johnson, the head coach of the De Anza men's soccer team, says Cornejo is a tough player and a responsible captain.
"Cesar is in a very important position in the team," Johnson said. "As a captain, he can never cut corners or take things lightly compared to the rest of the team. You never find Cesar in a situation where others are working harder than he is."
This is Cornejo's final year playing with De Anza, and he is currently considering transferring to either South Dakota Wesleyan University or San Jose State University for fall 2024 admissions.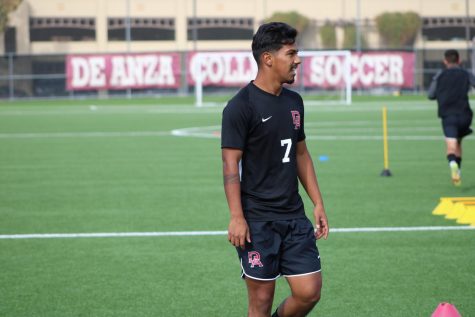 Being a captain in a team requires the individual to be strong and organized. Cornejo uses these traits to improve not only his performance but that of the team as well.
"On the field, he's really smart on both offense and defense compared to others who might not be as balanced on either." said Johnson. "Cesar is a very useful and hardworking player and we love having him on the field."
According to the coaches, being the captain of a college football team is no easy task, but Cesar's hard work is recognized on and off the field. Roheet Sen, the assistant coach of the De Anza men's soccer team, highlighted Cornejo's hard work, contribution and respect for his team and coaches.
"Cesar is a very, very hard worker and a very good player and leader. He respects all his teammates and coaches." Sen said. "He is able to be very competitive and vital on the pitch. He's a quiet player, but you can always see he's doing a good job."
Nolan Grieve, 20, majoring in kinesiology, is another captain of the De Anza team alongside Cornejo. Grieve says Cornejo's hard work pushes other players on the team to follow him and train harder.
"Cesar is a good example of a leader. He's someone you feel safe with because you can count on him," said Grieve. "His personality fits very well with the team and how we love to play football. He is a hard worker and encourages everyone else to work hard too."