SIOUX FALLS, SD – While references to pandemic-related supply chain issues have become a mainstay in any conversation about economic development or inflation, the details of exactly how these issues arose can quickly become confusing.
But for South Dakota businesses, the impact of a logistical slowdown was easy to see. Earlier this year, Valley Queen Cheese, a Milbank-based dairy company, had 2 million pounds of lactose in its warehouse, ready to be shipped to New Zealand. All they needed was an available container.
"The product had already been sold to a buyer in Asia and was just sitting there because they couldn't get space on these ships that were returning empty," US Rep. Dusty Johnson, RS.D., told the Forum News Service. "60% of container loads that returned to Asia last year came back empty."
Why would shipping companies cross the Pacific Ocean without any product? The reason for this lies in the unexpectedly high American consumer demand in the second half of 2020.
This demand weighed on the supply of empty containers, raising shipping prices and prompting shipping companies to think more carefully about which products should be transported.
Coupled with the comparable lack of demand in other countries, shipping companies faced strong incentives to bring foreign goods into America, and little reason to withdraw American products.
As a result, container ships left American ports empty-handed and headed to East Asia, returning with another load of high-quality electronics, rather than waiting for farm or manufactured products from local companies.
These circumstances, and their immediate impact on American farmers and manufacturers, caught the attention of Congress, which eventually led to the Ocean Shipping Reform Act, a bipartisan, relatively under-the-radar piece of legislation spearheaded in part by Johnson and one of his fellow U.S. senators John Thune, RS.D.
On the Democratic side of the aisle, key supporters included Rep. John Garamendi of California and Sen. Amy Klobuchar of Minnesota. The law was signed on June 16, 2022.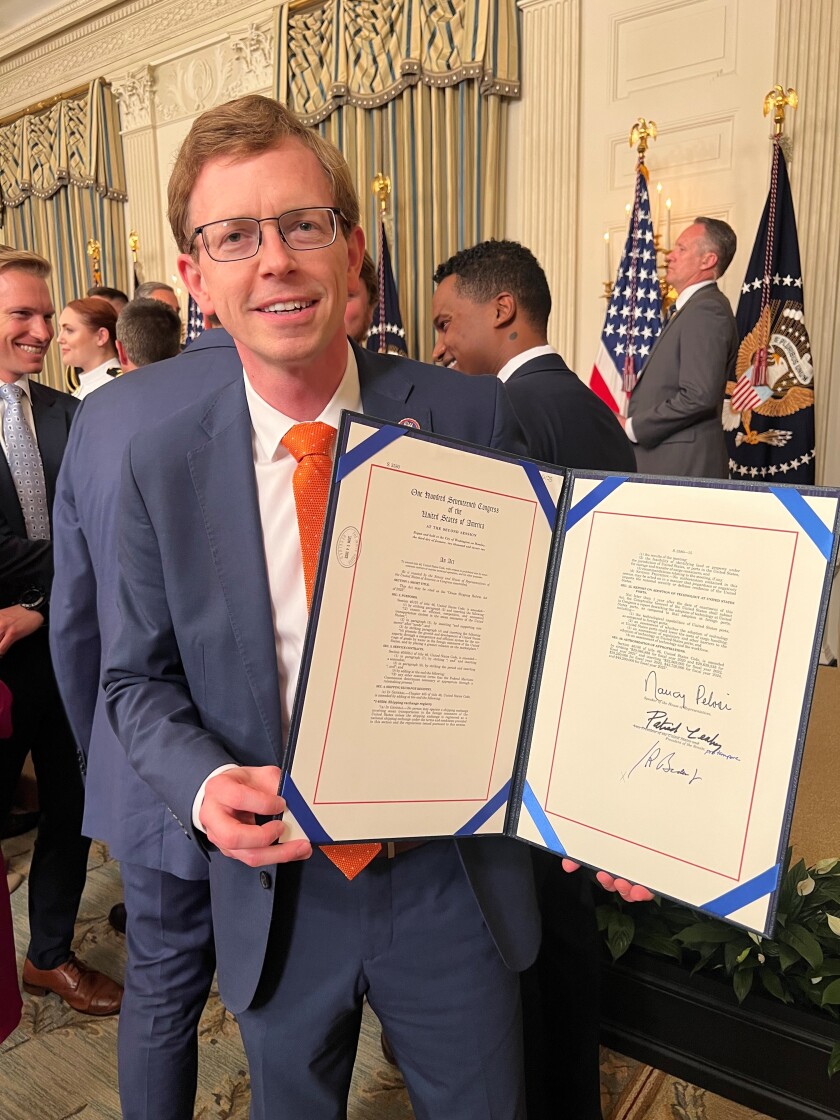 In short, the bill made significant changes to the rules and enforcement tools available to the Federal Maritime Commission, the federal agency trying to regulate the maritime transportation system in a way that benefits American businesses and consumers.
The bill asks the commission to enact new rules to stop ocean-going shipping companies from levying unreasonable fees on suppliers or discriminating against American products.
It also requires public reporting of multiple metrics, such as: Examples include average wait times at major ports – which have experienced significant delays during the pandemic – and the number of empty containers leaving American ports. These metrics will provide business owners and government officials with a regular snapshot of the health of America's supply chains.
While the 70% drop in shipping rates over the past year is partly due to smoothing global demand and the economic momentum of post-pandemic reopening, Johnson says the bill has impacted ocean carriers' decisions, which in turn helped rate interest rates reduce.
"I have executives from these foreign-flagged shipping companies sitting in my office and admitting that our legislation has caused them to dramatically change the way they handle American cargo," Johnson said. "The system isn't fully healed yet, but we know our bill sent a strong message."
Those on the ground in the state's agricultural industry have seen a quick impact.
"What we've seen in terms of container availability has increased dramatically," said Jason Mischel, vice president of sales and sourcing at Valley Queen Cheese. "In the first half of this year we were significantly behind in exporting products because there simply weren't any empty containers in the Midwest. And that has improved dramatically."
Aside from affecting South Dakota's agricultural products, the legislation also helped open supply chains to manufacturers.
Jordan Stoick, vice president of government relations at the National Association of Manufacturers, a major trade organization that has backed the law, said he's glad Johnson and Thune "recognized an issue facing manufacturers and South Dakotans across multiple industries." , and worked bipartisanly to enact sensible solutions," the law added, "would not have become law without their leadership."
Ryan McFarland, the CEO of Strider Bikes in Rapid City, recalled that his company had to be incredibly proactive throughout 2021 to book space in containers so they get their Chinese-made bikes in the country on time and book slots often could several months in advance.
Even so, McFarland said the main problem was unpredictable wait times at certain ports, since some of its inventory would sit for months while at other times it would be efficiently moved through. The combination of wait times and a huge spike in shipping costs — which still haven't returned to pre-pandemic levels — McFarland estimates his company has lost millions of dollars in potential profits.
With the general reopening and the beginning enforcement of new rules under the Ocean Shipping Reform Act, McFarland has seen some supply chain improvements.
"It's certainly a lot easier to book space now so that's not a problem," McFarland said. "Things seem to be moving pretty well in the ports as well."
While the precise impact and enforcement of the law — and how major shipping companies will behave towards each other — over time remains to be seen, Johnson said the bill will both send a strong message to those companies and help better prepare the American supply chain for the next market shock.
"Once you let Congress speak in a strong bipartisan and bicameral voice like this, people get the memo in a hurry. And while the [Federal Maritime Commission] Rulemaking is ongoing, we've seen a change in how airlines operate," Johnson said. "These companies know that the cop on the street has new marching orders."
Jason harward is a
Report for America
Corps reporter who writes about state politics in South Dakota. Contact him at
605-301-0496
or
window.fbAsyncInit = function() { FB.init({
appId : '333537111744287',
xfbml : true, version : 'v2.9' }); };
(function(d, s, id){ var js, fjs = d.getElementsByTagName(s)[0]; if (d.getElementById(id)) {return;} js = d.createElement(s); js.id = id; js.src = "https://connect.facebook.net/en_US/sdk.js"; fjs.parentNode.insertBefore(js, fjs); }(document, 'script', 'facebook-jssdk'));