BOZEMAN — Montana State earned fourth place in the Football Championship Subdivision playoffs, FCS announced Sunday.
The Bobcats (10-1) trail behind leaders South Dakota State, No. 2 Sacramento State and No. 3 North Dakota State. MSU finished fourth despite ranked third in Stats Perform and Coaches polls ahead of Saturday's Brawl of the Wild, which they won 55-21 over rival Montana. NDSU is #4 in both rankings.
"Happy with the season we've had, happy to be seeded and seeded in the top four," MSU head coach Brent Vigen told reporters Sunday, adding, "They have to keep improving and I think , we have the ability to do that."
NDSU (9-2) likely jumped ahead of the Cats after beating them 38-10 in last season's FCS title game, though the scheduled playoff hasn't provided specific rationale for its seeding decisions. The Bison and Cats both lost to Pac-12 teams this season (NDSU 31-28 vs. Arizona, MSU 68-28 vs. Oregon State), while MSU lost no FCS game and NDSU lost one, to rival SDSU (10 – 1). The Jackrabbits' only loss was Iowa, a program of the Football Bowl Subdivision Power 5.
Vigen doesn't think NDSU should have been rewarded in seeding just because she's the defending champion.
"It is not easy to sort all this. I understand," he added. But "I would hope last year's matchup had nothing to do with it."
#MSUBobcatFB does not get 3rd place in the FCS playoffs, as many expected. Montana State is #4, with defending champion North Dakota State #3.

Here's the reaction of the football team and fans of MSU here at Brick Breeden Fieldhouse. pic.twitter.com/Y8LPsYXnOl

— Victor Flores (@VictorFlores406) November 20, 2022
The blowout loss to Oregon State and narrow victories over Eastern Washington and Northern Arizona, both of which ended 3-8, may also have helped seed MSU.
The Cats will bid farewell in the first round and host a second round game on December 3. The winner of this Saturday's first-round game between 16th-ranked North Dakota and 7th-ranked Weber State will travel to Bozeman next week. MSU defeated Weber 43-38 on October 22 at Bobcat Stadium.
"It's exciting to prepare for a team that you're not very familiar with just because you see a little bit of new schemes and different styles of play," MSU Nickelback and team captain Ty Okada said Sunday. "On the other hand, it's nice to prepare for a team that you're familiar with because you understand a little bit more. It's easier to go deep into the film and deeper into the tendencies."
The committee provides the bracket in terms of geographic proximity, which is one reason why MSU will be competing against a top 16 team from the Mountain time zone, rather than a lower-ranked team from further afield.
"I know there's a regional component, although there shouldn't be," Vigen said.
The Cats have no earliest to travel to the semifinals as SDSU is the only team seeded ahead of them on their side of the bracket. MSU beat SDSU 31-17 in last year's semifinals at Bobcat Stadium.
MSU earned the eighth and final seed last year after losing in the regular season finals in Montana.
"The momentum that was generated in this field yesterday is very different than last year. We tried to regenerate at this time last year and we did," said Vigen. "We're playing well and in a few weeks we'll be as healthy as we've probably been all season."
The Cats and Sac State (11-0) shared the Big Sky Conference title this season after both finished 8-0 in league play. It is MSU's first conference championship since 2012.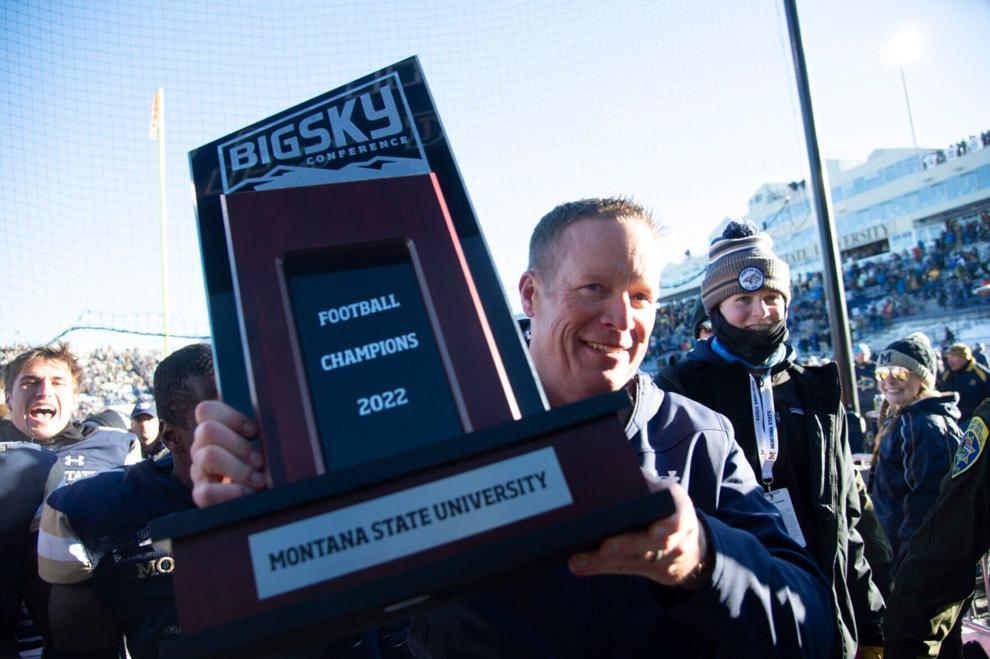 Five Big Sky teams made the 2022 FCS Playoffs: MSU, Sac State, Weber, UM and Idaho. The Grizzlies were considered a bubble team, and some FCS bracketologists expected them to be eliminated from the playoffs after their loss to Cat-Griz. UM will host Southeast Missouri State on Saturday, and the winner of that game plays at NDSU a week later.
Rematches between MSU and NDSU or UM can only occur in championship play.
"The Brotherhood is there. We are solid," Okada said. "We're ready to go on another run in the playoffs, go deep, get into the championship and hopefully bring it home this time."