Ken Homan, SJ (G'25), is a Jesuit friar who is completing his Ph.D. in US history in Georgetown. A Jesuit brother, Homan is a member of the Society of Jesus, who has taken religious vows and supports the Society's mission and ministry. Jesuit brothers are not ordained as priests and receive similar education and training required of all Jesuits. In his free time, Homan is a woodworker, which he combines with his Jesuit vocation, faith and research. While Jesuit Heritage MonthCelebrating Jesuit formation and art this year, learn more about Homan's passion for woodworking—and his latest project with Jack the Bulldog—in this first-person account.
"I grew up in St. Louis on the edge of the middle class. We had to do a lot of projects ourselves that we couldn't pay anyone to do.
I remember being eight years old and my father teaching me how to use a circular saw safely. I helped my dad rewire the house when I was 16. I helped replace part of the fence in our backyard.
I enjoyed these projects, but when I joined the Jesuits, woodworking really was a hobby and a passion.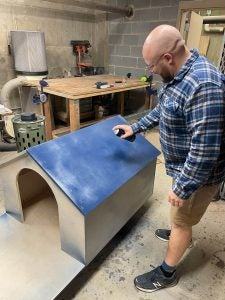 Homan entered the Midwest Province of the Society of Jesus after his sophomore year at Creighton University. Raised near Jesuits on the college campus where his mother worked, he was inspired by the Jesuit martyrs caring for the poor in El Salvador. He felt compelled to apply. The summer before he joined, he worked as a caving guide at Wind Cave National Park in South Dakota, building a custom frame to subsequently showcase photos from the cave. He was enthusiastic about the practical project, a passion the Jesuits supported.
For the first two years in the Jesuit novitiate, we received $50 a month in pocket money. I needed to get Christmas gifts for my family and I realized I could make picture frames and a wine rack for $50.
I'm also a competitive weightlifter and powerlifter, and while I was studying theology in Boston, the couple who owned the gym asked me to make them a large custom cutting board. When people saw that, they said, 'Can I have one too?' I started doing more.
I recently made a solid cherry dining table for my friends. There is a joy in creating something that will last for generations.
Homan began his Ph.D. in Georgetown in 2020. His research focuses on the history of the Jesuits and workers in St. Louis, which he finds intertwined with his passion for woodworking.
Woodworking connects many different parts of me. I took the vow name St. Joseph [the foster father of Jesus] for St. Joseph the Laborer, who was a carpenter.
And for me it's prayer and a commitment to justice. Working your way through 80-320 grit sandpaper, moving the sander in a circular motion for several hours, is a good time for silence and prayer.
Much of my work for my graduate assistant and work as a Jesuit is union organizing and worker organizing. For my dissertation research, I consider our relationship as Jesuits to workers. I ask questions like: Who did the Jesuits hire to build buildings in St. Louis? How was our relationship with the urban infrastructure there? How is our relationship today? Supporting artisans is a passion of mine and one of my dreams is to open a Jesuit trade school.
Historically, Jesuit Brothers did much of the labor work for the Jesuits. They were the cook, the cleaning lady, the caretaker, the electrician. The Jesuits don't need me as caretaker, but it's about having a connection to that history and to the people we serve.