A South Dakota sculptor immortalizes the cultural heritage of the country he loves by transforming rusted scrap metal and old farm implements into stunning, life-size works of art.
John Lopez, 51, lives on a 14-acre hobby ranch in Lemmon, South Dakota, the city where he was born and raised. In addition to his two (breathing) horses, Lopez's ranch is home to a welding shop where he works full-time on sculptural livestock and wildlife commissions.
Animals are the focus of his work. He renders everything from bison to bucking bronco, tiger to T-Rex. He told The Epoch Times: "Whether it's a whale or a squid, a wolf or a bison, I'm really inspired by nature and by living creatures.
"It's really important to me that the animal looks like it's alive, like it's moving. I'm really studying the anatomy and the muscles, but…it gets kind of abstract when you get close and see how the scrap metal is laid out. It's the best of both worlds."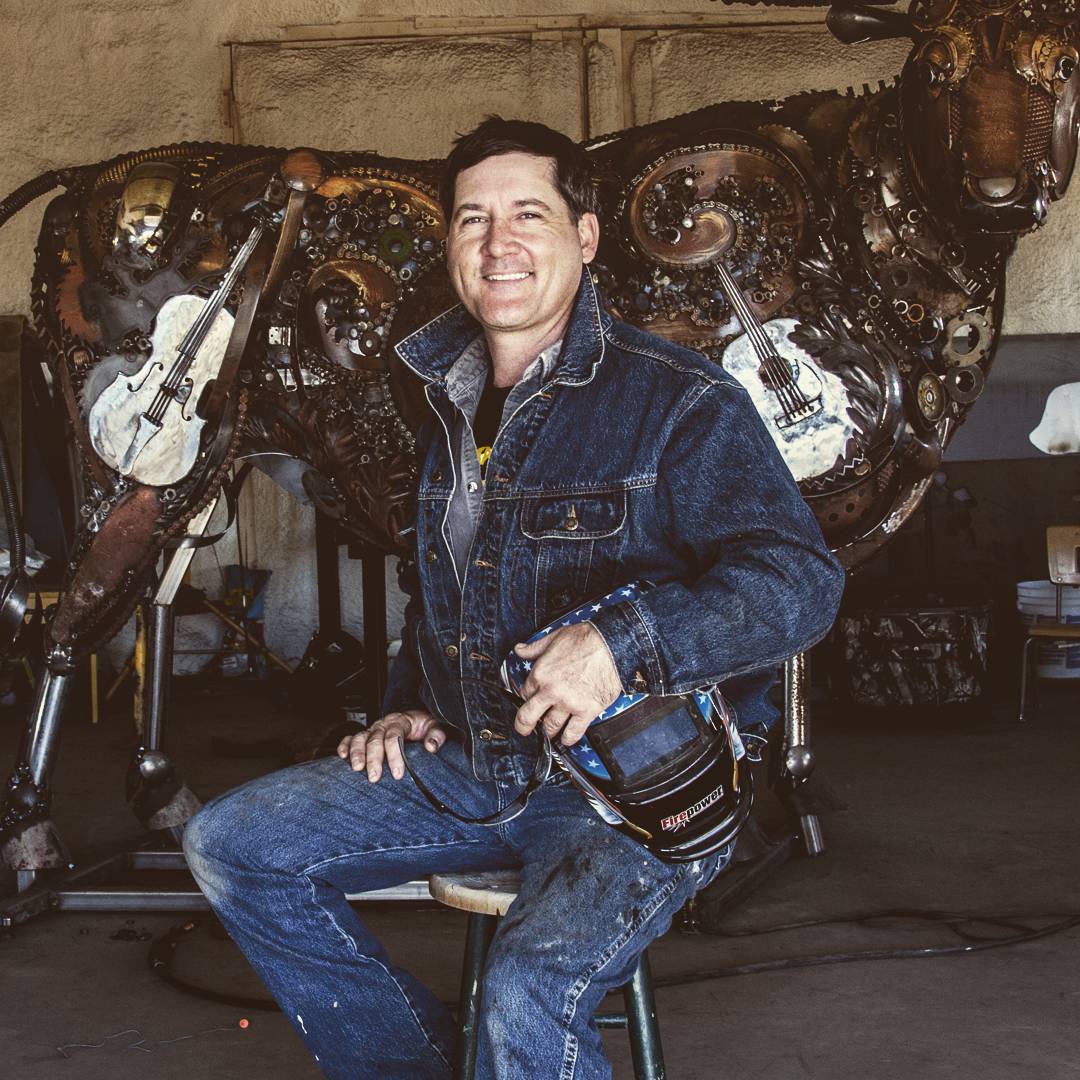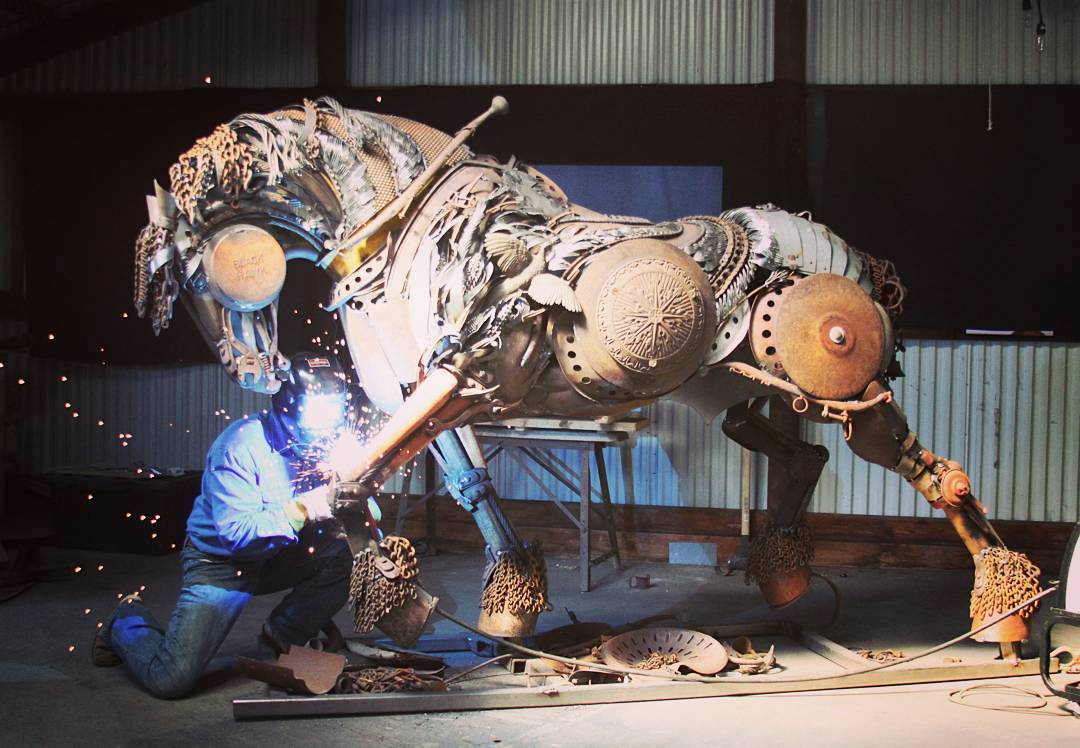 Lopez begins by sculpting a maquette—a small wax model—to better understand the anatomy of his subject. He then takes the model to his weld shop to use as a model, aiming to reproduce the detail and "capture the same energy" as the highly gestural miniature in the final work.
Rather than pounding his chosen scraps back into shape, Lopez keeps their dents, dents, wear and rust as a patina. "The pieces are beautiful and tell a story," he said. "They have a past life, and now they have a new life in the sculpture…it creates really interesting textures too."
Lopez estimates that some of his larger bison sculptures weigh up to a ton. Accordingly, he keeps a forklift on site. He needs about six months for an order.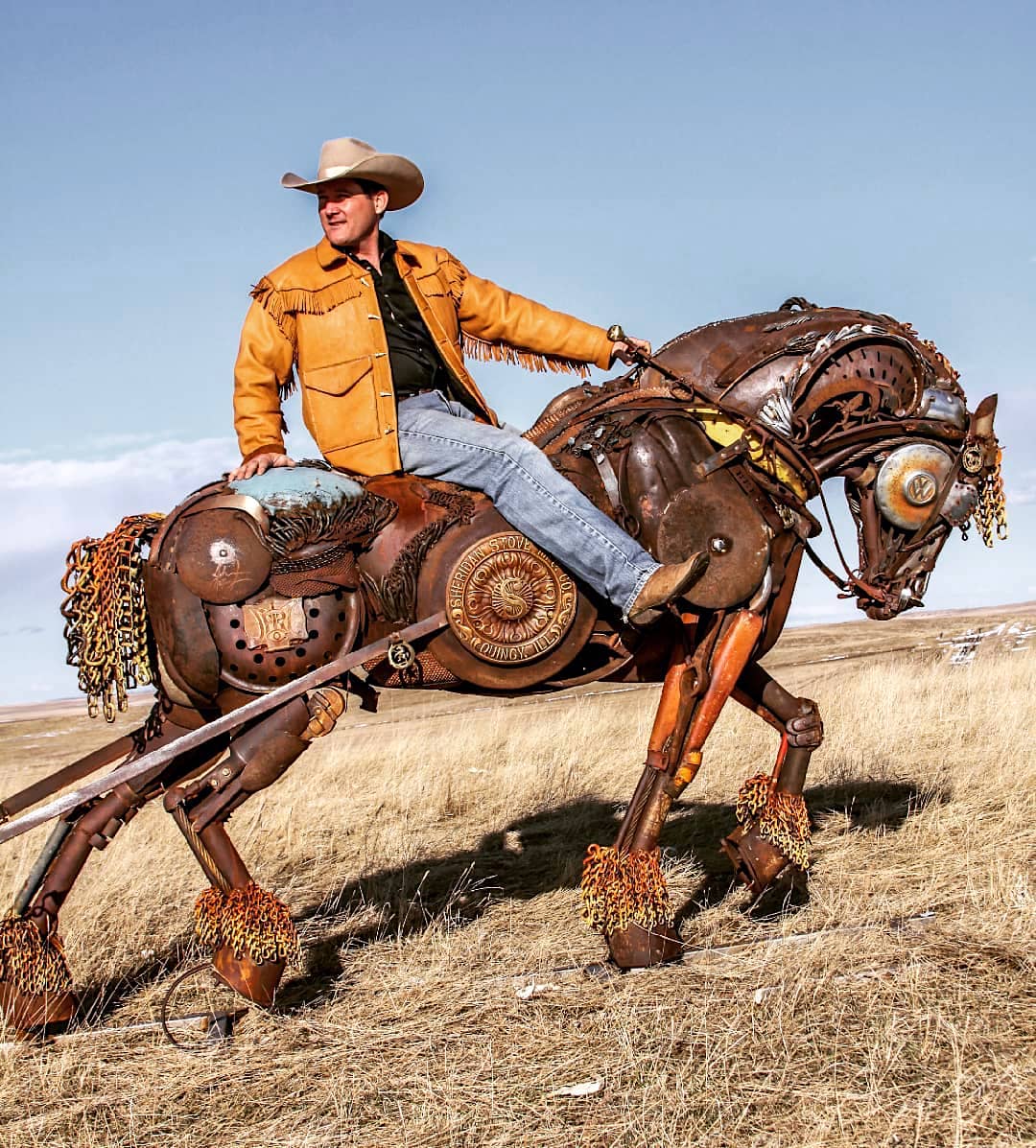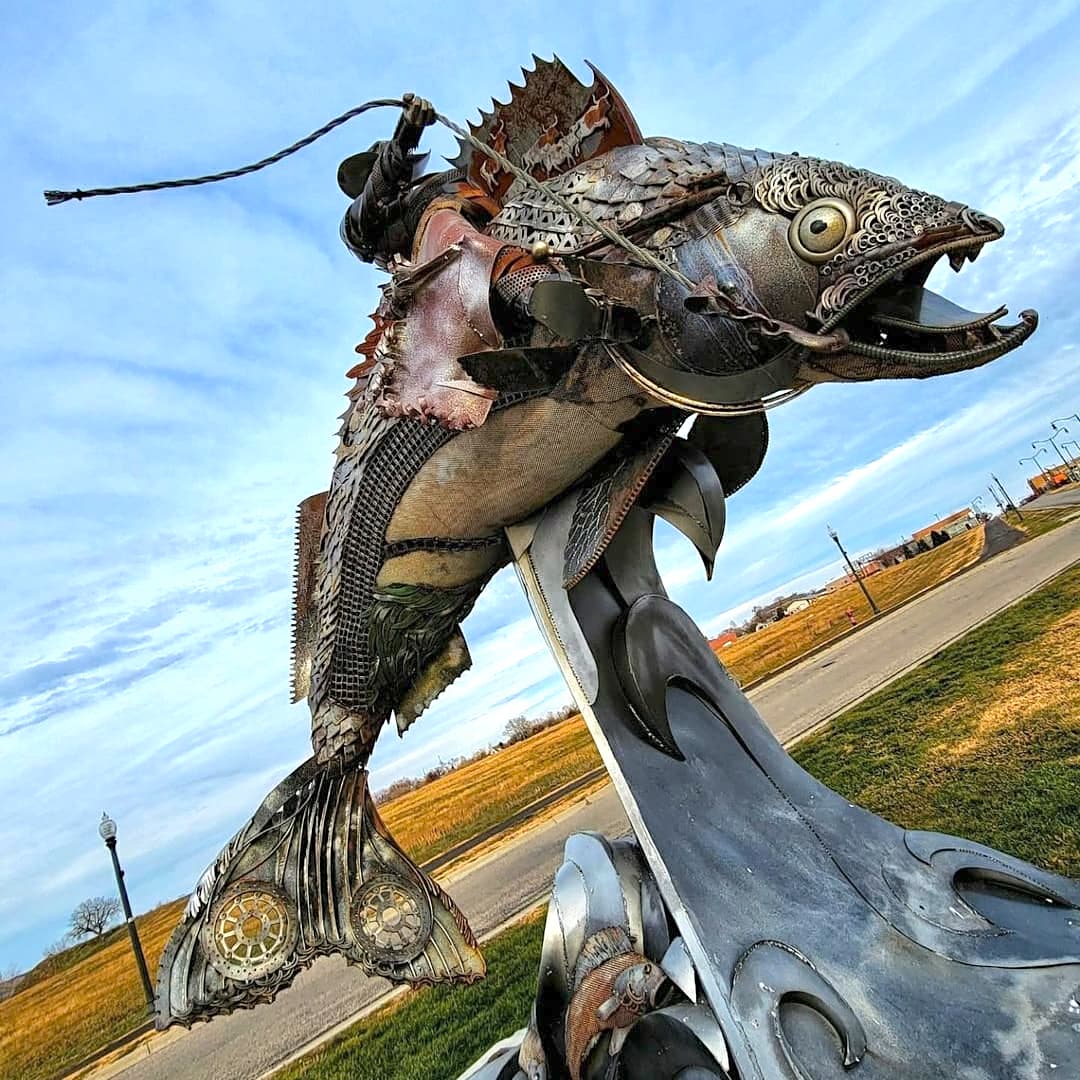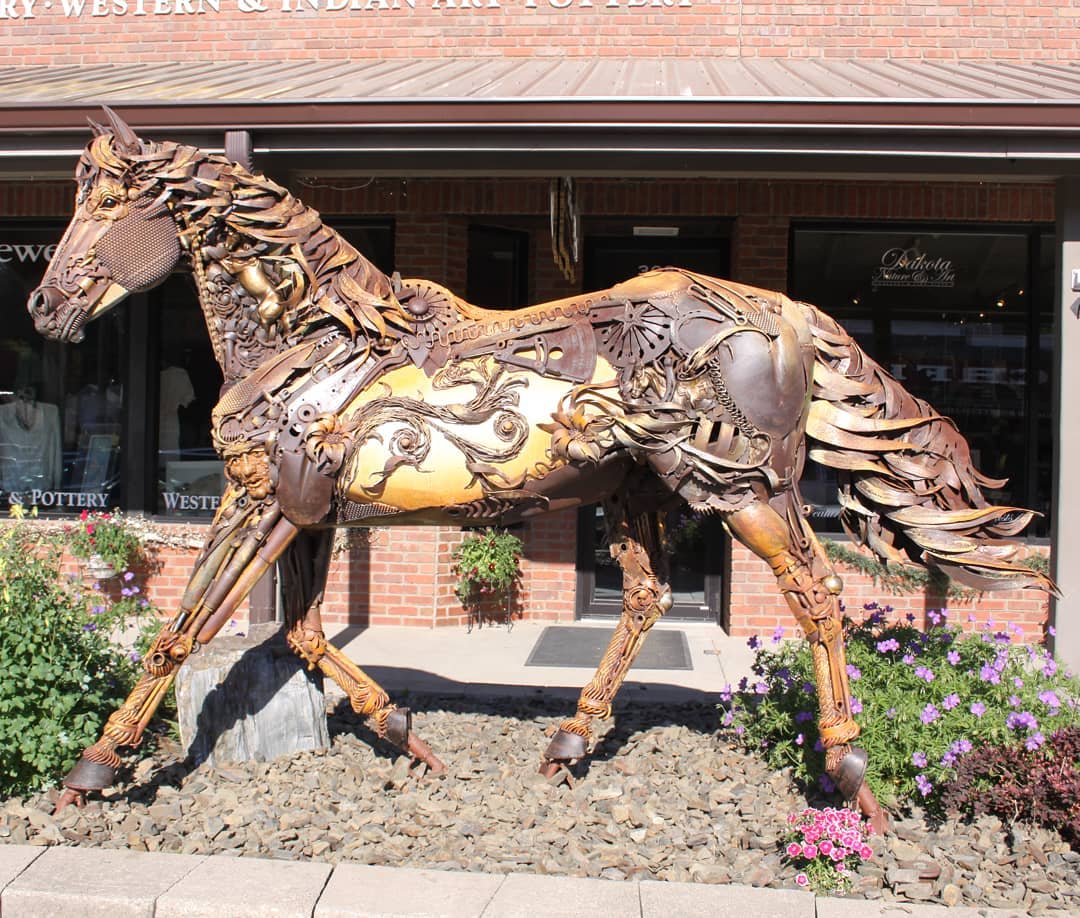 Thanks to the Internet, Lopez gained international fame around ten years ago. Today, most of its customers are commercial customers. His sculptures are placed in front of restaurants and other public spaces for all to admire. He estimates that he has completed around 40 pieces of scrap to date.
Aside from his wildlife, one of Lopez's most famous works is a series of twelve life-size presidential portraits for The City of Presidents project in Rapid City, which he executed from 2003-2010.
His favorite works include a draft horse pulling a plow entitled "Black Hawk" and American fur trapper and explorer Hugh Glass, who was famously attacked by a grizzly bear. Glass survived and reportedly crawled about 200 miles to safety to tell the story.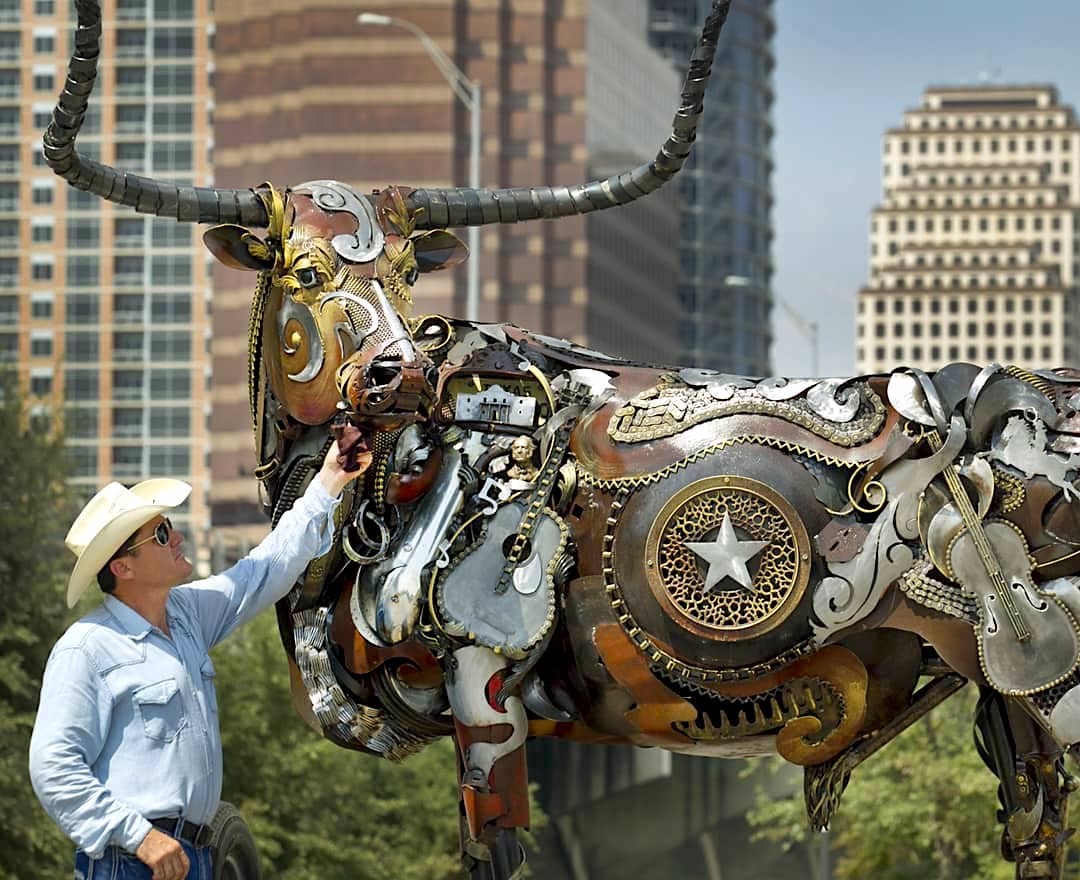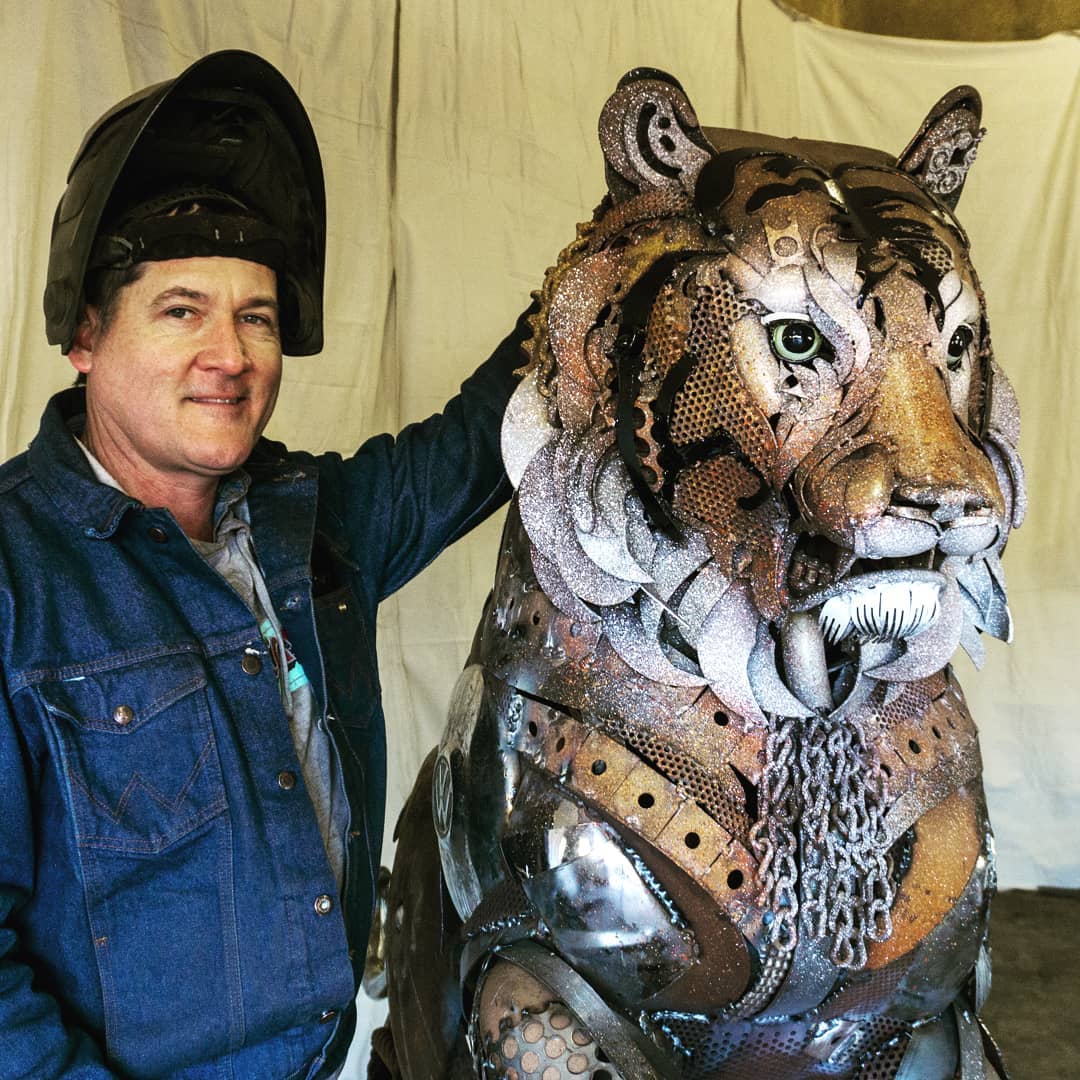 Lopez grew up in the ranch territory and said he wasn't "really school stuff" but was still encouraged to go to college to become a commercial artist. He enrolled at Northern State University in Aberdeen. There, sculpting in wax led to bronze, and he fell in love with the metallic medium.
Lopez shares his father's taste for Western art and the work of Charles Russell and Frederic Remington. Lopez's sculptures of horses and bison are designed to emulate Russell's clay works. Lopez's work grew in scope when he got a job for bronze sculptor Dale Lamphere in the Black Hills.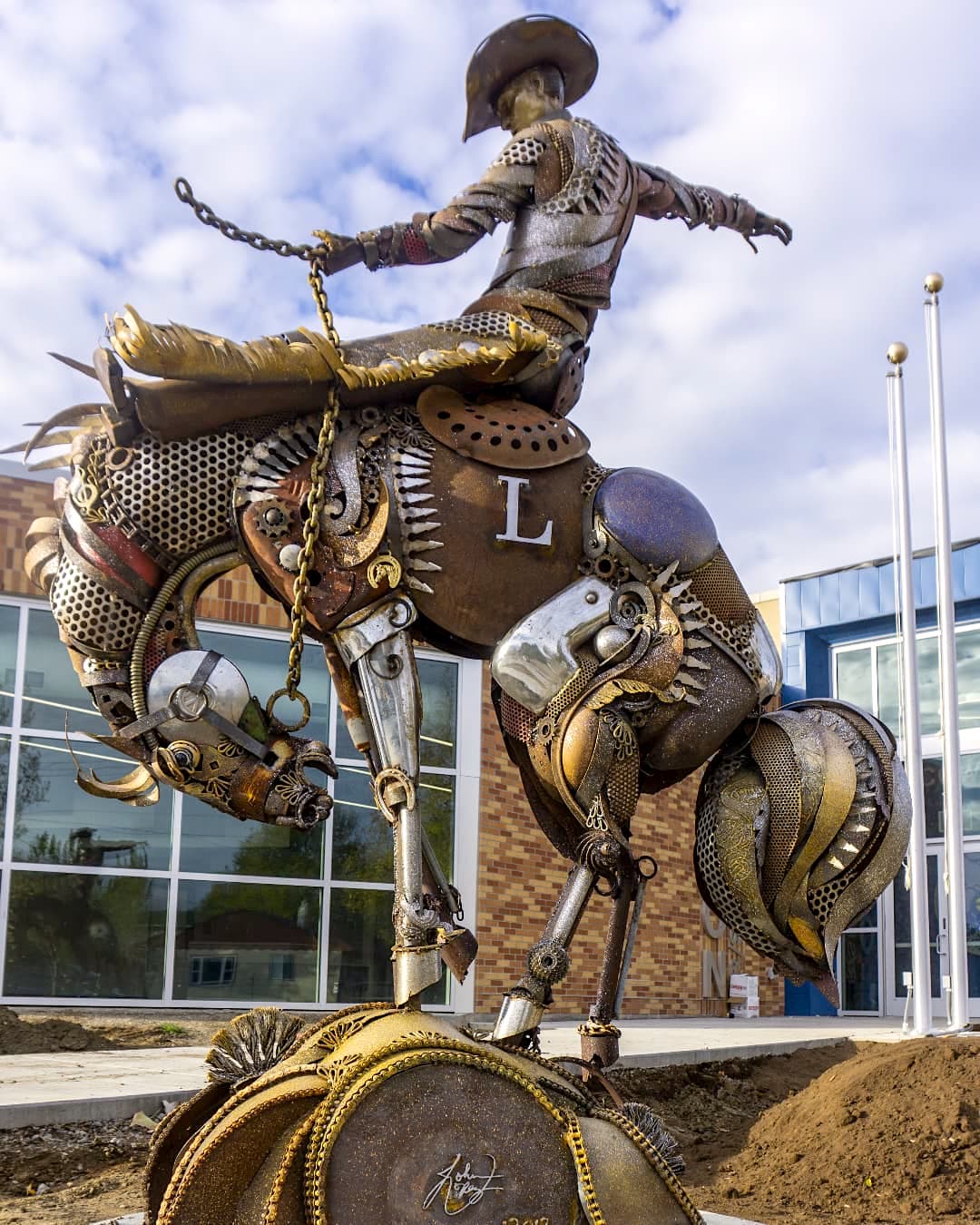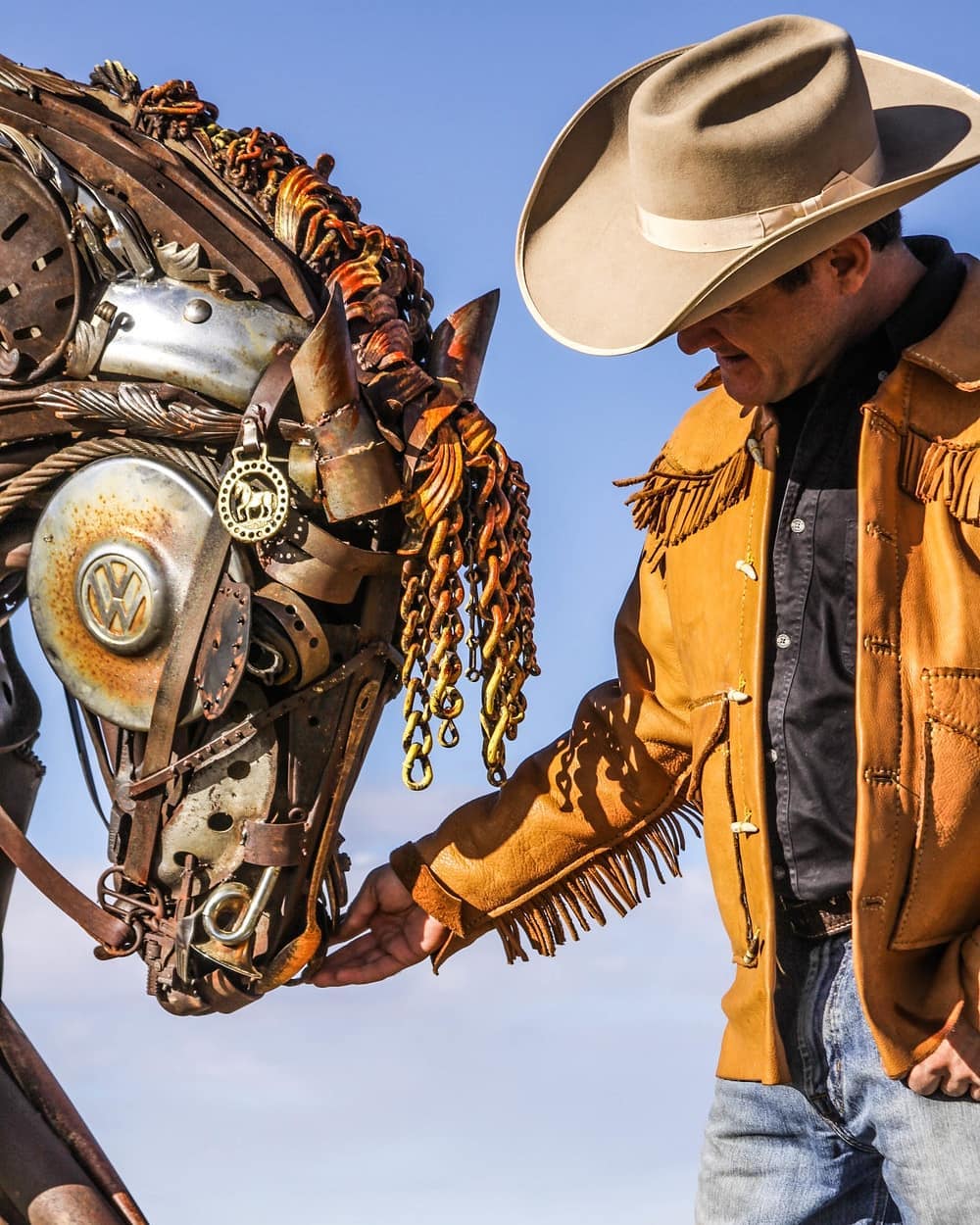 That job lasted nearly 20 years until a family loss brought him home in 2006. He was asked to create a memorial. "I made an angel for the cemetery gate for my aunt [from] Junk, tractor parts, old chains and motorcycle fuel tanks," he said.
Now on his own ranch, Lopez has found his milieu. "I used my skills as a sculptor and just started building things out of farm implements," he said. Uncle and Neighbors provide plenty of character-packed "junk" to work with.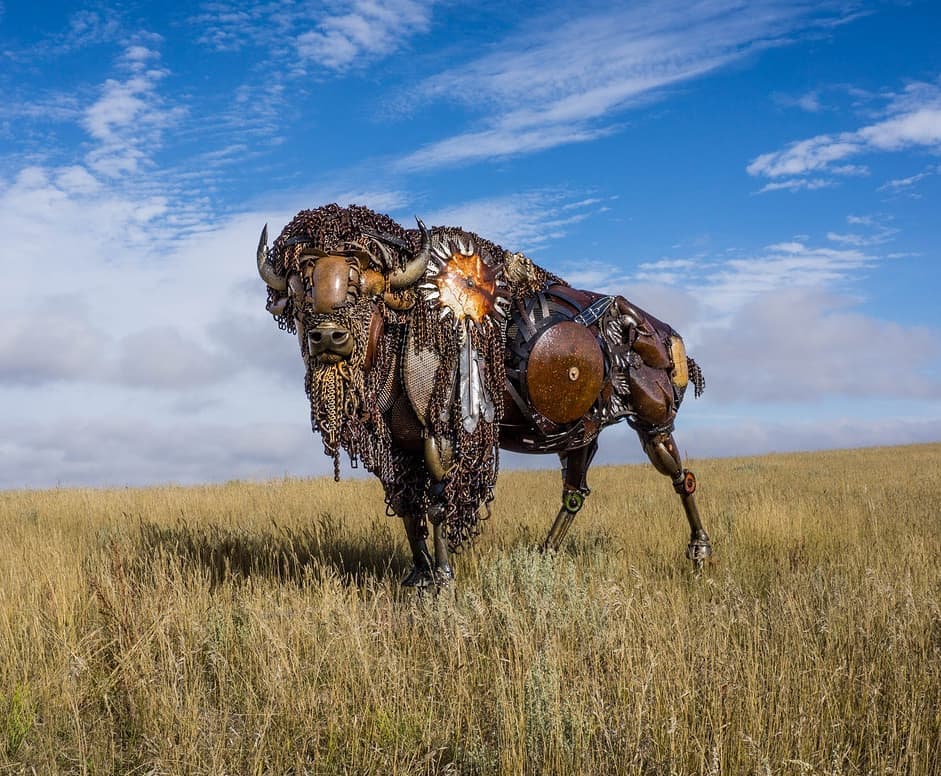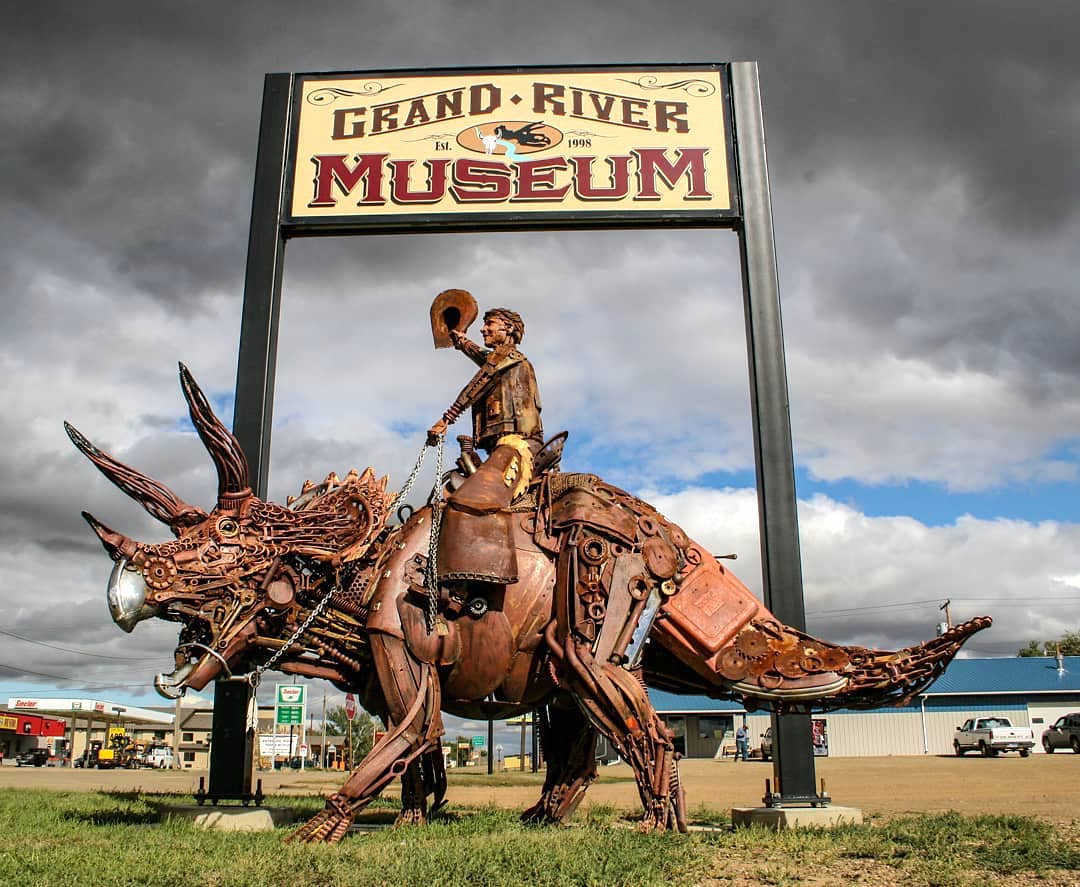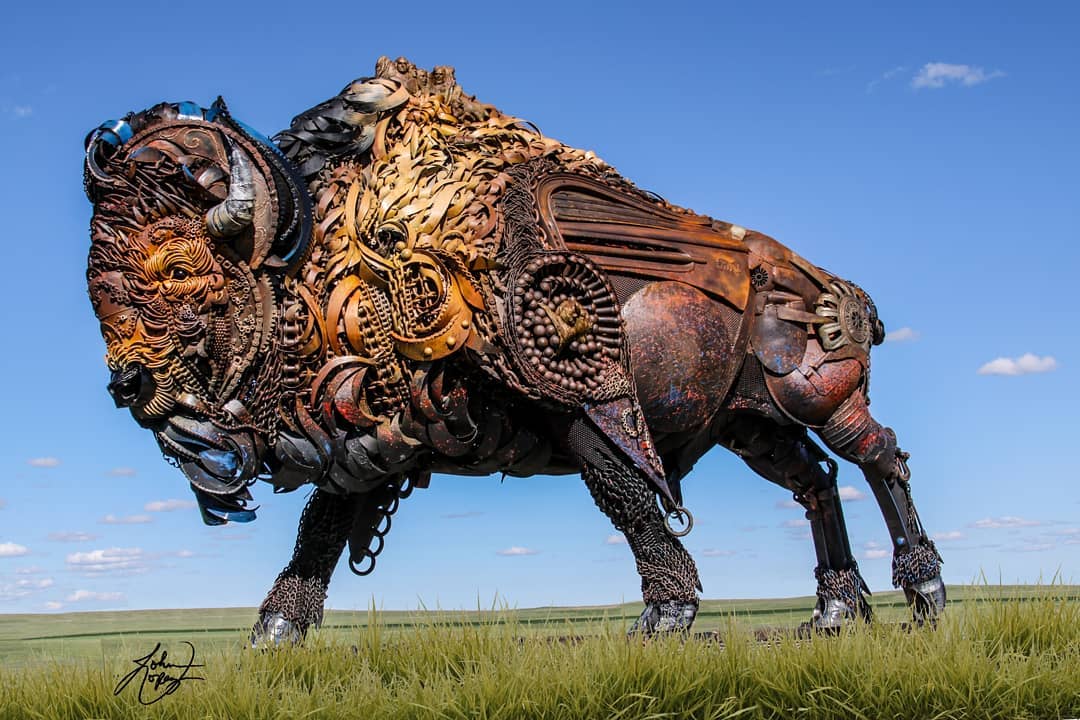 Lopez has a gallery space, the Kokomo Gallery, on Main Street in Lemmon. He has worked for big brands like fashion giant Hermes, has been at exhibitions abroad like Qatar and has been commissioned to create sculptures for the Princess of Monaco's 90th birthday celebrations.
While Lopez still admires Russell and Remington, he hopes to fuse that heritage with a more contemporary syntax in the future. "Something that will stand the test of time but still be my own style," he said.
Now working on a global exhibition, he hopes his junk sculptures will be seen the same way Buffalo Bill's Wild West was seen in Paris and London.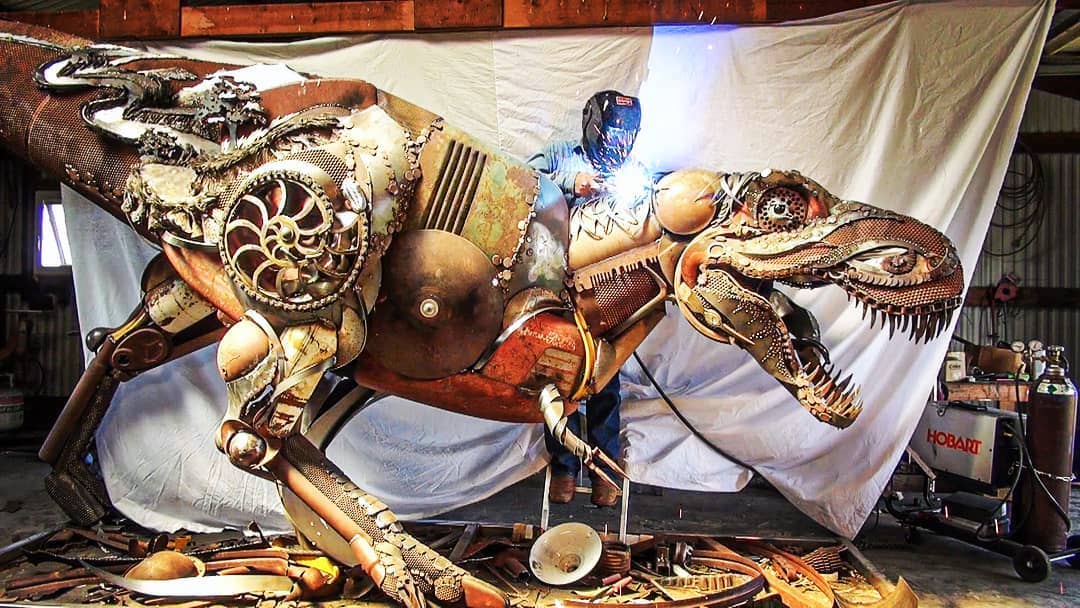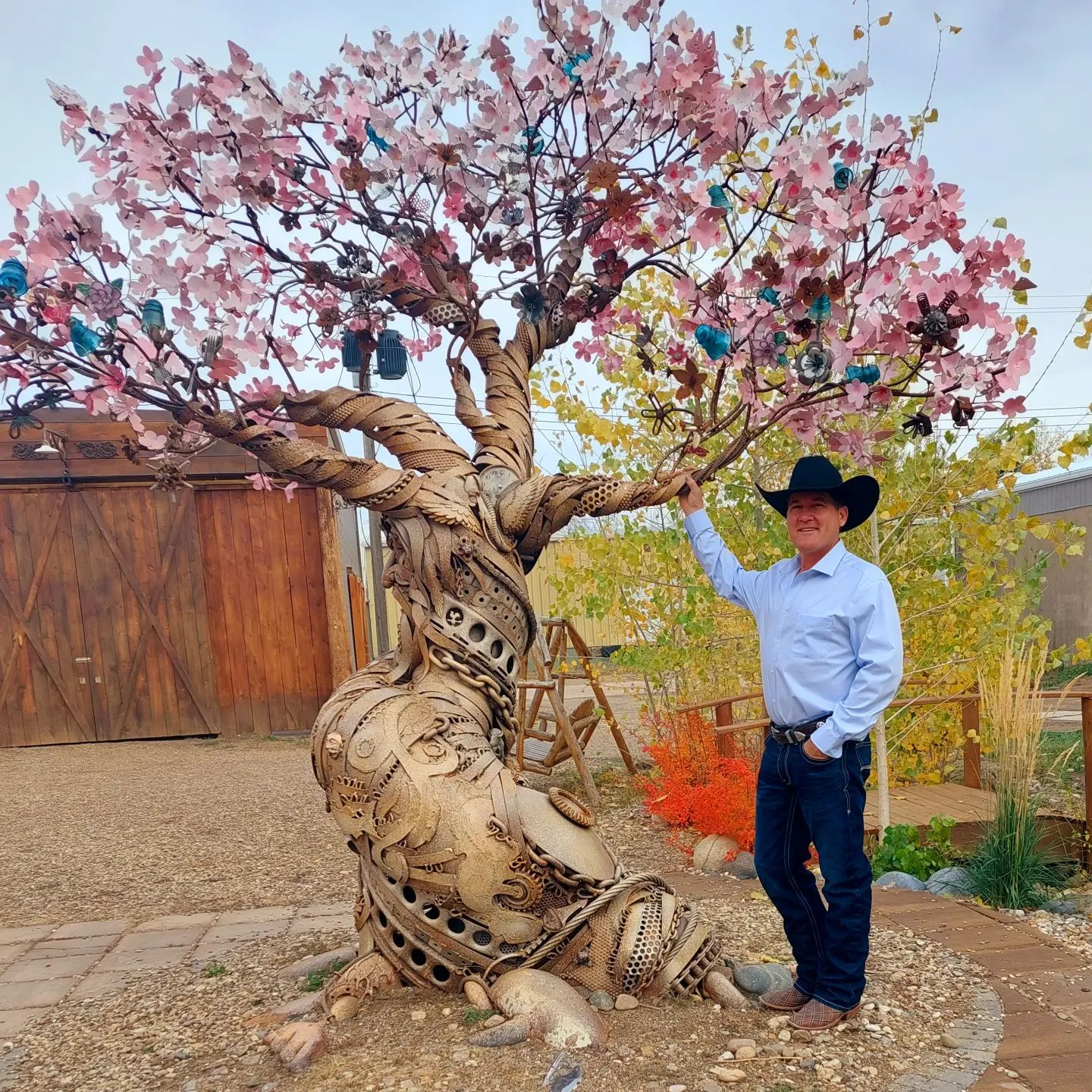 "I love meeting new people, seeing what other artists are doing, and getting to know new places…it's what makes life interesting," Lopez said. "I was very lucky. I make a good living doing what I love to do."
Lopez shares his extraordinary work on Instagram.
Share your stories with us at [email protected] and continue to get your daily dose of inspiration by subscribing to the Inspired newsletter at TheEpochTimes.com/newsletter