Colombia, South Carolina — Tennessee will honor the University of Virginia football program on Saturday night.
The fifth-place Vols will wear the "V" on the back of their helmets in honor of Virginia for Saturday's game in South Carolina Devin Chandler, Lavel Davis Jr. and D'Sean Perry – three Virginia football players who were shot dead Sunday night on a bus returning from a school trip to see a play in nearby Washington, DC
A former Virginia player, Christopher Darnell Jones, was arrested Monday morning in connection with the incident. He was charged with three counts of second-degree murder and three counts of using a handgun in the commission of a felony.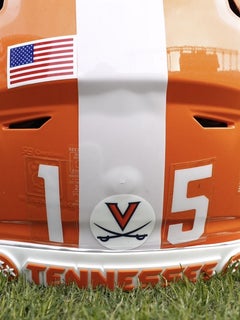 Virginia's home game against Coastal Carolina, originally scheduled for Saturday, was canceled after the tragedy. A public memorial service was held for Chandler, Davis and Perry on Saturday afternoon at the basketball arena on the Virginia campus.
Many college football-related programs wore helmet decals for Saturday's game, and Tennessee joined that group, adding the Virginia V logo to the rear lower portion of their new orange helmets.
A tweet from Tennessee's Official Account showed a picture of the helmet sticker and accompanied the photo with a simple sentence: "More than a game. #UVAStrong"
Tennessee and South Carolina are scheduled to face off in a game televised by ESPN on Saturday at 7 p.m. Eastern.
Tennessee coach sophomore Josh Heupel opened his weekly Monday morning press briefing by quickly addressing the situation in Charlottesville.
"To begin with the appalling tragedy at the University of Virginia, just extend our thoughts and prayers are with you and your program here as you go through this," Heupel said. "A really difficult and unfortunate situation.
Two other Virginia students were injured in Sunday's shooting but survived. A fourth football player from Virginia – Mike Hollins – was shot in the back and was initially in critical condition before two successful surgeries improved his situation and allowed him to be removed from intensive care. The other student, a woman named Marlee Morgan, was also wounded but is currently in good condition.
Virginia coach Tony Elliott and its players were in shock following the incident, which occurred at 10:16 p.m. EST Sunday at a campus parking deck.
"I can't find the words to express the devastation and heartache our team feels following the tragic events last night that resulted in the deaths of Lavel, D'Sean and Devin and the others injured," said Elliott. "These were incredible young men with big ambitions and an extremely bright future. Our hearts ache for their families, their classmates and their friends. These valuable young men were called away too early. We are all fortunate to have them in our lives. They have touched us, inspired us, and worked incredibly hard as representatives of our program, our university, and our community.
"Rest in peace, young men."