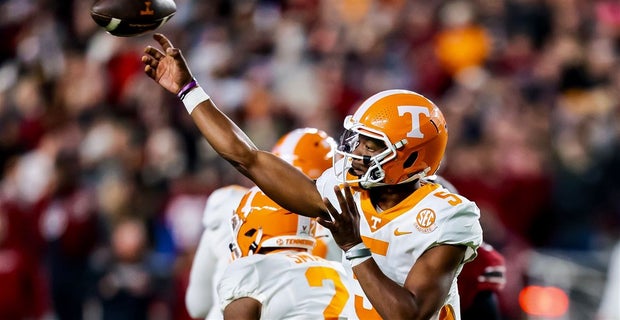 COLUMBIA, SC — Tennessee's brutal loss to South Carolina on Saturday night went from very bad to much worse early in the fourth quarter when star quarterback Hendon Hooker collapsed on the turf at Williams-Brice Stadium. On a speed option game, Hooker went up when the turf gave way under his left leg as he planted and he went down with his left knee. Eyed by the medical training staff, Hooker cautiously walked to the sidelines and into the medical tent before heading to the locker room minutes later as backup Joe Milton III ended the 63-38 loss that knocked the Vols out of the college football playoff- Picture.
Head coach Josh Heupel had no update on Hooker's injury after the game.
"We'll examine him when we get back to town," he added.
Hooker was 25 of 42 passes for 247 yards and three touchdowns before leaving the game. He threw a quick touchdown pass to Cedric Tillman in the second quarter and landed in the arms of Bru McCoy with a deflected pass just before halftime as Tennessee tried to fight back after a 21-7 hole after the first quarter. His 41-yard touchdown shot against Princeton Fant put the Vols up 35-31 with 9:53 left.
South Carolina had scored two more touchdowns and was leading 49-31 when Hooker suffered his injury, including fumbles and the Gamecocks, who recovered and scored another touchdown — not that anyone in Tennessee cared, such an important player to see the rapid ascent of the program, lying on the floor in pain.
"It was probably one of the worst things I've seen out there," said veteran left guard Jerome Carvin. "Just to know how hard he works, probably the hardest working guy I've ever seen, ever played with. It's so unfortunate to happen to a guy like that. But if I know anything, I know he'll surely recover from it. Man, he's a warrior, so I know he'll do it.
"I haven't had a chance to[speak to him]but I love this kid."
Hooker was firmly in the Heisman Trophy race mix as he led the Vols to 1st place and fought for a CFP spot in the final weeks of the regular season.
"We were definitely all concerned," Fant said. "This is our brother. It's our quarterback. This is someone we all believe in in this offense. He is in our prayers tonight and we pray for him."
Milton came on and led two drives – one finished fourth in the red zone and the second with a touchdown pass to Tillman to complete the scoring with 1:31 left.
Tennessee wraps up the regular season at Vanderbilt next week.
"I think the first thing that came to my mind was really just pray," LaTrell told Bumphus on the defensive end. "Like you said, a guy who goes through a lot of injuries, I know it can be very tough on you mentally and physically. I think whatever's going on we just have to do a good job, get back into the rehab situations and just keep bonding and being together.