The film of virtually every game needs to be watched – or "erased," as some call it – before a football team puts a game to bed and focuses on the next. That's how it goes in this rhythmic world.
So yes, Josh Heupel and his staff sat down and watched a film about the shocking 63-38 loss of then-fifth-ranked Tennessee in South Carolina at Columbia's Williams-Brice Stadium over the weekend. They then spent part of Monday morning showing the crew the film.
Obviously it wasn't a pleasant experience.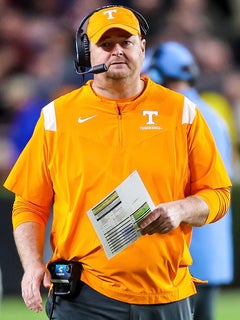 "Just looking back, I'm obviously disappointed with the result. Everyone in our program was," Heupel said Monday during his weekly lunchtime meeting with the media. "You could still feel it a little bit from the guys today when we started as they entered the building. I had the chance to watch the tape with them, an opportunity to learn and grow.
"I told the guys that once we're out of the team briefing, we need to call this off and move on."
Before the next game — this Saturday's regular-season finale at state rivals Vanderbilt in Nashville — the Vols needed to once again watch and confront the viciousness of that performance at Columbia, particularly on defense.
South Carolina had 10 possessions against Tennessee barring run-out-the-lock quickies to end each half. Nine of those possessions reached the end zone. And it all came a week after the Gamecocks failed to score a single offensive point in a 38-6 loss in Florida.
Gamecocks quarterback Spencer Rattler entered the season in Tennessee with eight touchdowns and nine interceptions. He completed 30 of 37 passes for 438 yards, six touchdowns and zero interceptions against the Vols.
There is no gentle way to describe the performance. To their credit, Heupel and the two defenders made available to the media Monday did not downplay the reality of this system failure that knocked Tennessee out of the national championship race.
"Disappointed," said Heupel. "The players are too, and it's a proud group that has played well at times. Of course, that wasn't a good performance. More missed tasks. We didn't do well. Some things we control and obviously they played well too. Disappointed with these things. We didn't defeat any blocks – that's in front, that's on the edge. We haven't made any games in space, and these are the things you have to do at the end of the day.
"We have to learn from it, grow from it and get better."
Heupel again said things start with him and the coaching staff, and that he and the defensive coordinator Tim Banks could have done some things differently during the game to at least slow down the bleeding. Ultimately, however, Heupel said there were one-on-ones that had to be made and weren't made at all three levels.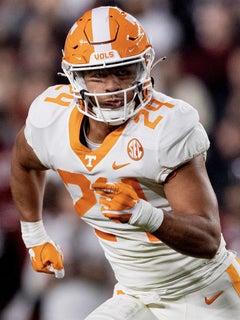 "Sure, there are probably a few things that Coach Banks would change, but you're also trying to balance everything from how many numbers you have in the box to protecting your guys outside," Heupel said. "At the end of the day there are some plays that we are capable of that we didn't make in some one-on-one situations. I just didn't play well enough."
Tennessee senior linebacker Aaron Beasley said frankly it seemed the Vols expected South Carolina to "lie down" and let the heavily favored visitors win.
"I suppose we just felt like it was being given to us," Beasley said. "We felt like we didn't have to go out and work for it. We thought they would just lie down. Props to her. They came out, they played a great game. They played physically."
junior defender Omari Thomas — known throughout the program as one of his best and most consistent leaders — didn't excuse the performance either.
It was clear throughout the game that Tennessee defenders and linebackers were being shredded in downfield, but Thomas said he and the team's other defenders allowed a lot of that to happen because they were overplayed up front.
"When you went back and only had the chance to watch the film, you saw that we just didn't perform well," Thomas said. "We just didn't play well as a defence. We didn't really focus on the small details that we were focused on and we really didn't perform well as a defender."